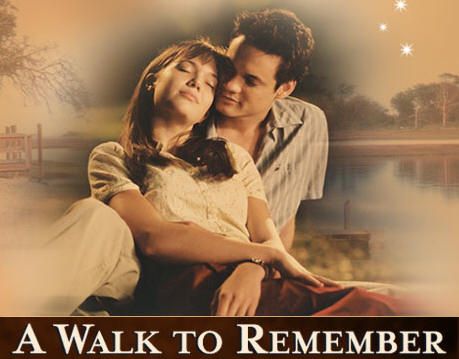 Okay, so i know that unless you are like living in a bomb shelter, you've probably seen A WALK TO REMEMBER. You know, that classic cute teen romance movie featuring (a rather hot) Shane West and Mandy Moore and the beauty of the relationship was that first of all, they came from two different worlds and fell in love, and two that she had a list of ambitions and he OH SO ROMANTICALLY helped her reach those ambitions, as well as come up with some of his own because he was inspired by her. And I mean, c'mon! Who isn't personally inspired by that?? I mean, we all have dreams, goals, ambitions- a desire to do something so desperately in our lives we can feel it! I mean, maybe it's to star in a big hollywood box office hit, or maybe it's to be in a big broadway production, or maybe it's to raise a family and have 15 kids! No matter what it is- it's special and unique to YOU! I think it's way cool how God has designed each and every one of us to have such different personalities, yet still have this innate desire to matter- to fit in while standing out- to be something and do something great- no matter how big or small it may seem to others! I love it!
So I've been thinking about some things that I'm currently aspiring to... things that matter to me.. things that are unique to me. So I'm gonna share some of those here, i mean, i'll probably have millions more to add in the future- i'm rather ambitious! but these are just a few:
Read all 177 books on the Barnes & Noble Classics book list (so far I've read 11)
Host a Girls Night IN with all my room mates
Fly my neice up to Seattle for a week with Aunt Amanda where I can spoil her rotten and share pieces of my heart and encourage her and give her girl advice!- just me and her!
To create a magazine that outsells PEOPLE magazine
To get married and have kiddos
To go on a cruise
Go to the HOW Design Conference
Dance under the Eiffel Tower at night
Attend ACL Fest
Vacation to Spain- Madrid or Barcelona
Go to a Seahawks Game
So now, it's your turn! Comment and let me know what some of your ambitions are! Nothing is too big or too small! Let's share life!