Lately I've gotten the shopping bug.  And it's not good cause I know the economy is pretty crappy right now.  But I was putting stuff in my backpack the other day and kinda wishing I had more bags.  I LOVE BAGS!  Not necessarily
baggage
...but bags.  I used to have quite the collection when I was growing up
(i can't find them for the life of me now)
and my favorite was a baby blue messenger bag with velcro fastening from Old Navy.  I took that sucker EVERYWHERE...she was a good little bag.  :D  It wasn't this one, but it kind of looked like this:
What can I say, I'm a sucker for messenger bags!
The bag I have right now is the OGIO Tactic bag and I love it because it's such a fun trendy laptop backpack that's not super clunky!
But, I also want to have more bags to choose from when I'm not carting my laptop around. Or even just to give my laptop a change of environment.
So as I was looking online, I fell in love with these bags as well:
I LOVE Ogio bags. This is the OGIO Road Trip Messenger Bag: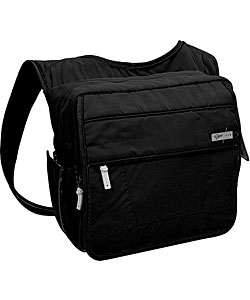 The DIESEL Junior Cross Body Bag:
The "Police Line" Messenger Bag from Portage Bay Goods:
The Gola x eBoy Redford Eater Bag:
The Waterloo Retro Bag:
(i would want the blue based one)
And last but not least, the Daptone Records 7-inch record bag:
Who knows...maybe someday soon I will make one of these bags mine :D